During my blog cruising this week I came across
this little birdie
. This, along with the purchase of some Christmas fabric, inspired me to create the little bird below. I have not added the
bead feet
to this ornament but will try that with the next one.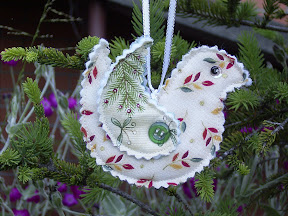 The wings are held on with the buttons and the eyes are sequins and small beads. The hanging ribbon is threaded through the body by making a small hole with a piercing tool.
I used the sewing technique from
I'll Teach Myself Sewing Machine Fun
by Nancy Smith and Lynda Milligan. The design is drawn onto freezer paper and this is ironed on to the fabric before anything is cut out. Batting is sandwiched between two pieces of fabric (the top piece has the freezer paper pattern pieces ironed onto it) and pinned together. Each pattern piece is then sewn around and then cut out just outside the stitching line. I used pinking shears. I have had the book on my shelf for quite a while and found it very useful when Avid Crafter and her brother were starting to use the sewing machine. I have seen another book called
The Best of Sewing Machine Fun
in my local Spotlight store recently.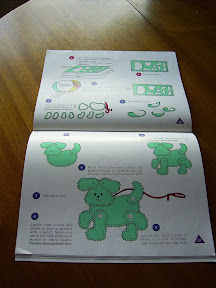 The book has instructions and patterns for a button up dog or cat. Avid Crafter and I have made the cat and Avid Crafter attached her cat to a patchwork bag. The cat and dog are about 28cm wide and 26cm high. My ornament is about 9.5cm wide and 8cm high. This small size made it a little trickier to cut out with the pinking shears.