Sorry for the long break between posts. we have had a great break. Three weeks of rest, relaxation and reading for me. Avid Crafter indulged in rest, reading and water fun plus a little crafting. I indulged in my love of photography by taking many photos. I hope you will indulge me while I share a few of these in some later posts. Unfortunately the break went all to quickly and then it was back home and into the routines of school and finding out what work I might pick up this year. I am a teacher and I pick up relief (emergency work) and short term contracts and as such my work load varies greatly.
Late last year
Whipup
posted about a site called
Red Bubble
.
Red Bubble
is a site which provides a place for artists and photographers to display and sell their work as cards, prints and calendars.
Whipup.net
created a calendar using the Red Bubble site which showcased 13 craftpeople who had been featured on Whipup.
I became fascinated by the vast array of amazing art and photography that is displayed on the site and joined. I have put some of the photos that I feel are the best I have taken up on my
Red Bubble page
. They are there for sale as cards and some are also for sale as prints.
On to some crafting. Before Christmas I created this card. If you need a card in a hurry then this is a very versatile design.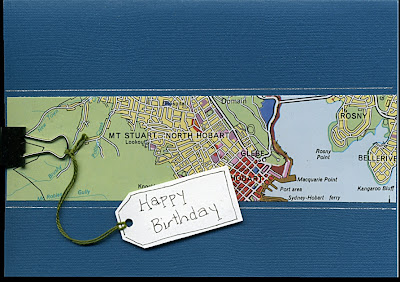 I used a page from an old atlas to get my map and cut this to create a rectangle across the front of the card. The rectangle looks best when it is placed just below centre. Two lines of silver gel pen top and bottom give it a border and then the tag gets added. The tag was cut with my very handy tag punch from Fiskars and then I just hand lettered my greeting. The idea for the clip came from a cardmaking magazine I was reading at the time. Sorry I can't remember which one. The thread is some pearle cotton and the tag is stuck in place with some foam tape to lift it up from the map.
Instead of the map you could simply use a pretty piece of patterned paper or even part of a photograph. The tag could hold a number, Thanks, Thinking Of You or any other greeting you might need. I also added an insert of white paper for ease of writing my message inside.
There is a stitching project in progress but no photos yet. The crafting bug lay dormant for a while but is slowly warming up again.