Here are the
promised pictures
plus the next project I created.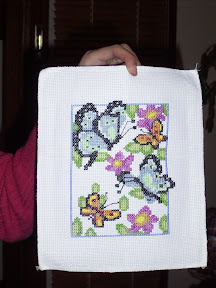 This is the butterflies picture. I got it as a kit from a dollar-store type place for $2 and this showed in the quality of the aida, which was rectangular rather than square. However the finished picture doesn't look wrong because of it. There is a slight visible kink in the border though.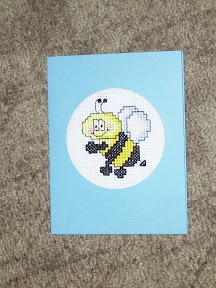 This is the buzzy bee card, all put together and ready to share.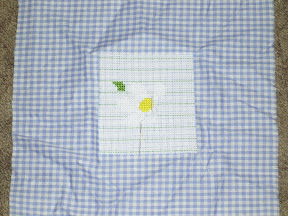 And this is the next project, the daisy, with wrinkles and all in the gingham. The finished daisy will probably be a patch on a bag or similar.


Here is the mouse I've knitted while being home sick. It is done in 3 sections and has crochet edging on the ears and the tail is crochet too. He's a fairly simple design and I think I'll give him away, although I don't know who yet.