Well the winter ills have hit the family and DD is sniffly and altogether feeling yuk! Both she and I are knitting some little mice from a book I have had for years.


These little mice turn out not so little and oh so fat. They have a crochet edge around their ears and crochet tails as well. This little mouse will be quite happy going off as a present for a nephew about to turn one.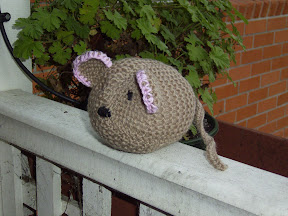 I have started knitting the bag on my to do list and I made a new bag for all my cross stitch threads to travel in. The other one was disintegrating a little more every time it got packed in the car. I used some more of the fabric from the tablecloth I purchased from the secondhand store.
Web browsing has been fun.
Check out this
wonderful blog
I stumbled across. Aren't the flatties cute.
ArtRage
has been upgraded to version 2.5. I have just downloaded it and played a little. There are stencils, more layer options alongside all the wonderful stuff it already had. Imagine art materials galore without the mess! No running out of paint or paper.