A little late but that is how life goes sometimes. Thursday 13th March was the day when we were able to proudly say to each other - we have been blogging for one year. What a journey!
We have found ourselves looking eagerly at the comments left, pondering on the lives of those who visit, finding new blogs to visit from comments left and being constantly amazed at where the visitors to our blog come from.
To celebrate our 1st blog birthday - another giveaway! This time a little zipper pouch and another block of good old Cadbury's could be winging it's way to you. Leave a comment and be in the draw. Comments will close on Monday night.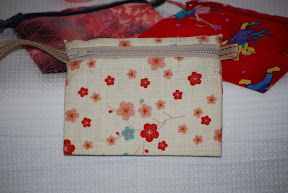 The zipper pouches are the latest bit of crafting to be explored. I had previously made a pouch from the instructions in our
Bend the Rules Sewing
book and was a little disappointed with how the zipper looked in the corners. Much blog surfing later and I came across
this tutorial
. Instead of the zipper being at the top it is on the side - giving a very nice look to the whole pouch. Thanks so very much
Sew Sally
for posting this tutorial for all to share.
Another try from the
Bend The Rules
book was the simple tote pattern. I am not that sure with the end result - it is quite small. I love the fabric and have found that small it may be but it is the right size for my lunch box. So now I have super duper lunch box bag. Cats on the outside and umbrellas on the inside. I think that I may have made the box corners at the bottom of the bag a little bigger that the one that is pictured in the book. There are no specific measurements given. It would be an ideal size for a toddler's bag.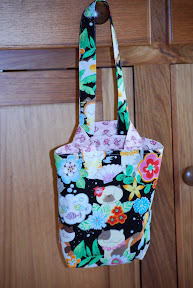 Thanks to everyone who left a comment. We will be posting soon to let you know who the lucky winner is.