Oh dear it is almost Easter and I am still posting photos of the Jan/Feb holiday crafting. How silly is that?
Here is my first attempt from The Cute Book. Avid Crafter has much more experience with these little critters and they are definitely fun, addictive and cute. I now have this little bunny dangling from my handbag. Here she is posing amongst the tea-tree flowers.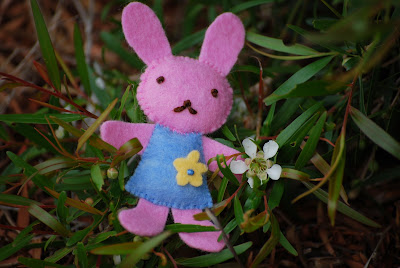 Aside from finding stray photos of holiday crafting there has been some sewing happening. We both need an apron for a cooking class we have enrolled in - A mother/daughter cupcakes evening - and so far the only one completed is Avid Crafter's fruity goodness.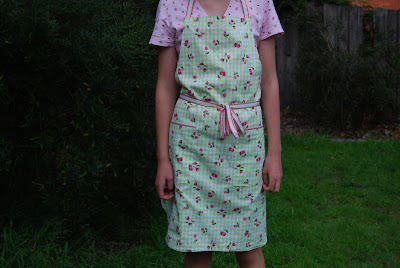 The pattern is
Kwik Sew 2311 - View B
with a few minor modifications. The fabric was a bit on the light weight side so we made it lined and that avoided all the bias binding that the pattern had round the edges. We used some pretty ribbon for the neck loop and the tie. The last little detail - not yet done - is to add two little polka dot heart buttons at the top where the neck loop is stitched on. The fabric has strawberries and cherries scattered all over a pretty checked background. What do you think?
Next up on the sewing ranks was this top for Avid Crafter. The fabric had been chosen some months ago but the style of the top was not decided upon until just lately.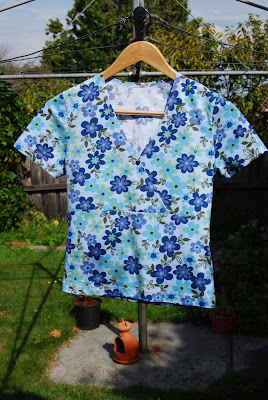 The pattern is
Kwik Sew 2694 - View B
and is very quick and easy to put together with the help of the ever trusty overlocker. This is the second time I have used this pattern and have been pleased with the results both times. Avid Crafter happens to be wearing the other one in the headless apron shot. The pattern sits very nicely and the only modification was to stitch the crossover down to avoid gaping and embellish this stitching with a little heart button. Apologies for the backgound in the above photo but the clotheline was the ideal hanging spot - nice and sunny but the overgrown garden bed doesn't look crash hot - no gardener am I!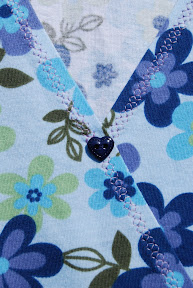 Note to myself - do not stitch down crossover before said recipient tries on top as then there will be less unpicking and restitching to make the top sit just so! All that aside the top meet with approval as it was worn straight away. What a great feeling when this happens.
Last note on this post - Winners of the birthday giveaway - the parcels were posted today.