Crafty Things gets to play...... For my birthday this year (
way back in January - gosh we are already in March!!
) I was lucky enough to get some gift vouchers to a lovely little scrapbooking shop. These vouchers enabled me to purchase a .......
BIND IT ALL
machine.
Unfortunately for me they were out of the wires that you need to use with the machine. I have had to wait (p
atiently well maybe not that patiently - I only phoned them a few times to see if the wires had arrived
) for the wires to come back into stock. Yippeeeeeee - last week I got a call to say the stock had arrived. Time to play.
I very quickly learnt that there is a little bit of a knack to this gadget. My first attempts didn't end up with beautiful round binding wires but slightly oval shaped, crooked wires. The next big mistake was to start with a wide project that meant I was learning two new things at once. The machine only binds six wires at one time and with a larger project you progressively move the wires along (
lining them up oh so carefully.......well lining them up better as you go along!
) and bind in sections. Not quite as easy as it looks in the instructions.
Here are my first few attempts. First up a little notebook of recycled paper - tizzied up with lots of ribbon to hide the shonky wire which had a mind of its own.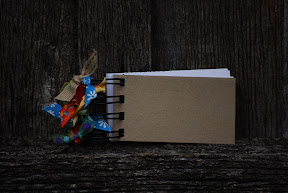 Next an ideas book - I have made these before and taken them off to be bound with plastic comb binding. The idea came from this
blog
and I made one for my daughter last year for her to keep track of all her crafting endeavours. I used envelopes for pages, coloured card, thick and thin paper but did not add many inside decorations. The blog I used for my inspiration had beautiful decorations on each page. I did add a few things -
I scattered them throughout
- to my daughter's book but the latest ones have only got an array of different types of papers for pages. I covered one of the fronts with fabric using fusible webbing and used a piece of double sided scrapbooking paper for the other with a protective plastic layer on top.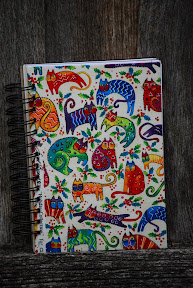 Ideas book with fabric cover.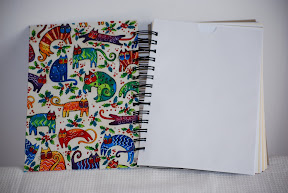 One of the envelope pages.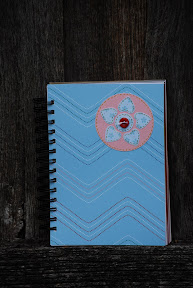 Plastic protective cover over scrapbooking paper.
My latest experiment was to make another birthday book (
Blogged about here
). This time I was much more successful with the wire binding and was very happy with the end result. I used my Fiskar's tag punch to label the removable month pages and went with computer printed labels rather than hand lettered. The front cover was again protected with a bit of left over laminate and the back cover was part of a recycled pad backing. The inside pocket pages are cartridge paper and the inserts are index cards.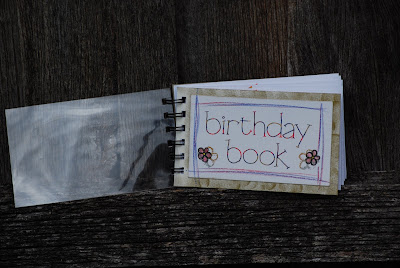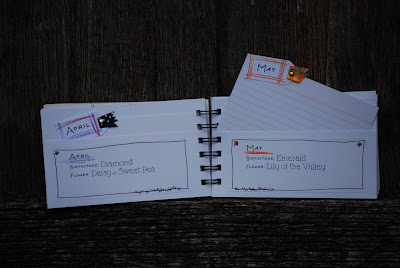 That is all the play I have had time for but I am thinking about a few other ideas.