On the crochet front I, c
raftythings29 --- Ravelry name
, found another very simple pattern to try. I found this while cruising the vast expanses of Ravelry (
almost got lost forever... never to be seen again
.) This pattern is for a very simple bird and can be found
here
.
So far four complete birds have made their appearance and a fifth is part way to completion.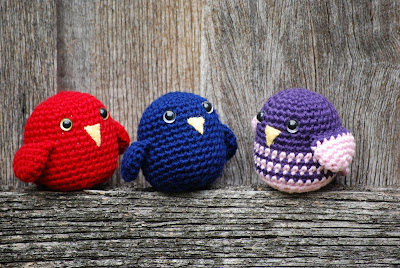 Three little feathered friends and another was completed soon after. The one on the right is my first attempt at stripes when crocheting in the round. Good thing that this is a front view shot.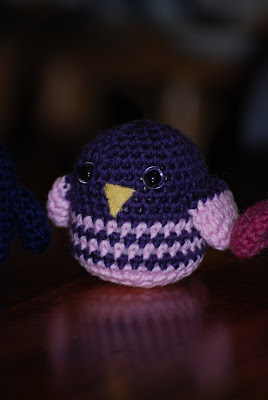 Just had to post this picture. I was playing around with my camera's flash settings. I really like the reflection. I am still experimenting with the settings on my DSLR.
Hopefully Avid Crafter will post soon - she has been hit with that dreaded affliction ----loss of crafting mojo.